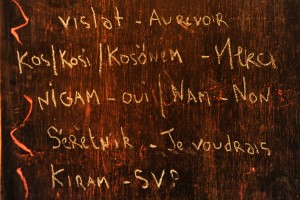 Hungary.
Draught. Yellow Big Top, caravans, semi trailer on dried grass. Galapiat Circus has arrived… we're all here, almost… we've settled for 15 days in a village called Kisharsany 35 kms south of Pecs, to be pronounced Petch.
This is one of the three venues of Ordogkatlan festival.
After South America, this is a very different country we are setting foot on.
Our dream this time was to travel with our Big Top and caravans to Hungary and Czech Republic. Bring our circus to these arid lands.
Everyone has arrived : Hélène, Gautier, Luc, Lucho, Jonas, Sébi, Elice, Sébas, Matthieu, Thomas, Lucie and Emilie.
This blog is written by Emilie and illustrated by pictures taken by Sébas and drawings by Lucie. The texts are translated by Hélène.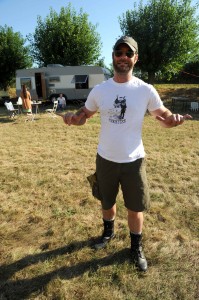 It took us several days to come here, a trip punctuated by a series of accidents and breakdowns.
Emilie and Seb have had to leave their caravan on the side of the road in Italy, the Big Top convoy finally arrived after 3 long days on the road…

Some of us drove through Italy, Slovenia and Croatia, some others through Germany and Austria.

Along the way, new faces, new currencies, our circus leads us to a part of the world unknown to us.
Here, it's hot. Here, we eat at 6 pm and wake up early in the morning. We eat food we've never seen nor tasted before…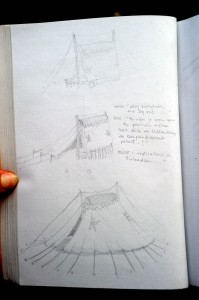 Like in France, we have our houses on wheels, our Big Top but apart from that, everything's new !
The language is world's apart from ours. Luckily, Attila is here with us, he's Hungarian and speeks English. And Hungarian of course…
The artists have been rehearsing since yesterday. They're doing a run-through tonight. The challenge is that Matthieu – replacing Moïse who stayed in France for the birth of his daughter Violetta – manages to find his place among the Galapiats during the summer and 2 festivals !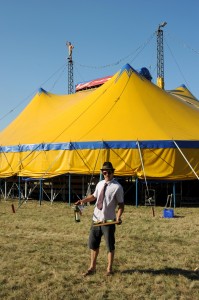 A lot of people come to visit us during the day especially during rehearsals. It's a big event here to have a French circus company coming with its Big Top. We're in a very small village…