Not such an easy task to bring a little baby inside the Big Top and watch Risque zérO. I've decided to tell about the first Hungarian performance from outside the Big Top. Luckily, it doesn't retain much sound. I sat outside during the show and stood ready to pick up any sound, any sign that give me an idea of what's happening inside.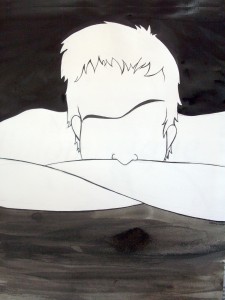 The Big Top is packed. The show will start very soon. Applause. Then, deep silence. The artists go to sit on the couch one by one (I suppose). Apllause again, vigourous, shouts, all these signs show the great enthusiasm of the people inside. It's going to be a great one !!!
The show unfolds between moments of silence and pure ecstasy. I can't see the faces but I can imagine the childlike smiles and glistening looks. It seems they like the performance, the circus, the risk.
It's getting a bit chillier outside. The artists get out one by one whenever they can. They're soaking wet, they indicate me that it's like in an oven inside.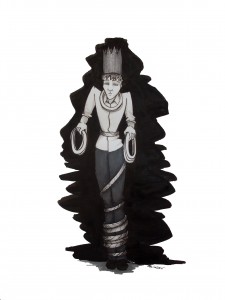 Everyone's supporting Matthieu. It's not an easy task to replace Moïse without really replacing him…
The Chinese pole music. The others support him by whistling and shouting. As the act goes on, the audience get more and more excited. The act ends up with thunderous applause, we're all happy for him.
Just after that, Sébas does his round the world run and waves to his family outside.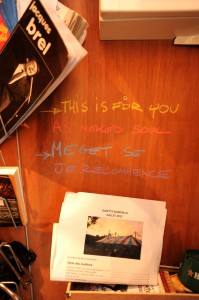 He's had 2 days to learn some Hungarian expressions and it seems to work, people laugh ! They're aware their language is almost impossible for foreigners to speak so when someone makes the effort, they appreciate !
Lucho gets out, wearing his « Hitler » moustache and rushes to his bus he uses as his wardrobe and makes up an injury on his shirt.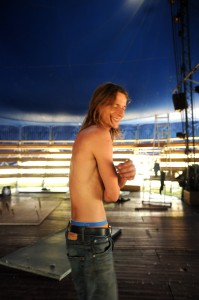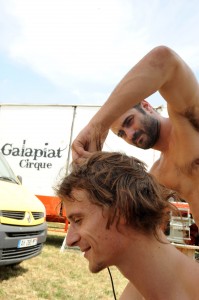 A few minutes later, he goes back into the Big Top and laughs rise !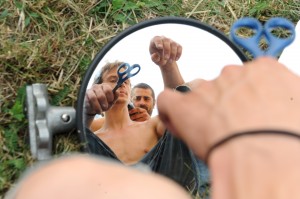 It seems it's the first time people see circus. When Jonas jumps high in the air and Elice flies, they get crazy ! And when Sébi throws his knives, frog and firecrackers, they laugh like children !
Risque zérO will be performed 16 times in Eastern Europe, it's huge ! The pleasure they will be taking in the tour depends a lot on the audience. It's a very good start !
The end. Lucho's juggling at high altitude followed by his leap in the dark provoke a burst of applause. Then, when the artists come back to take a bow, applause again, in rythm and with a deafening energy !
The artists get out from one side of the Big Top and the audience from the other, they're dripping but smiling.